21 Best Parks in Mississauga to Explore in 2023
The Journeying Giordanos contains affiliate links and is a member of the Amazon Services LLC Associates Program. If you make a purchase using one of our links, we may receive compensation at no additional cost to you. We only promote products and brands that we believe in and have experience with.
---
Best Parks in Mississauga
Mississauga is a vibrant city and one we are proud to call home. Not only can you find some incredible shopping, a phenomenal food scene, and some great attractions, but the city is also filled with some gorgeous green spaces. If you enjoy spending time outdoors, and happen to be visiting the city, we have put together a list of the best parks in Mississauga to explore.
21 of the Best Parks in Mississauga to Explore
Most of the parks we have chosen to highlight are large green spaces that have trails, family-friendly playgrounds, splash pads, or a feature that makes them unique in some way.
1. Lakefront Promenade Park
Lakefront Promenade Park is the largest and most popular waterfront park in the city. With more than 40 hectares (104 acres) of public space, picnic areas, beaches, a marina, and tons of walking trails, it is also one of the best parks in Mississauga.
Located approximately 9 minutes east of the popular Port Credit area, Lakefront Promenade Park is the perfect place to spend a warm summer's day. The beach, which is an inlet off of Lake Ontario, is much warmer, shallower and more contained, than any of the other beaches on the lake.
The kids will also love the large playground and splash pad, or watching the boats come into the Lakefront Promenade Marina. You will find plenty of parking, public washrooms, and other amenities to make your visit comfortable and enjoyable.
2. Port Credit Memorial Park
Located along the east bank of the Credit River, Port Credit Memorial Park is a great place for families to spend the day. Whether you choose to head to the massive playground, enjoy a picnic, or go for a stroll along the waterfront, you really can't go wrong.
In fact, Port Credit Memorial Park has one of the best playgrounds in the city. Designed to look like a miniature Port Credit Village with storefronts, boats and marinas, younger kids will love playing, using their imaginations, and exploring this awesome park.
The park also hosts many events and festivals throughout the year. From Busker Fest to Farmers' Markets, Rowing Regattas and music festivals, there is always something happening at Port Credit Memorial Park.
And don't forget to check out the Music Walk of Fame while you are visiting Port Credit Memorial Park. It is located adjacent to the playground and parking lot but unfortunately is not well-signed.
The Mississauga Music Walk of Fame pays tribute to a growing number of local stars and musical talent who have a connection to the city. It's actually a great place to learn a little bit about the local music scene.
From local legend and jazz pianist Oscar Peterson to transplant Ronnie Hawkins, you will definitely recognize many names on this list.
Streetsville band Billy Talent, blues guitarist Jeff Healey, The Mamas & The Papas singer Denny Doherty, and former MuchMusic VJ and CBC Television talk show host George Stroumboulopoulos, all claimed Mississauga as a home during their careers.
3. J.C. Saddington Park
Once a landfill site, J.C. Saddington Park was converted into a large green space. It is now considered one of the best parks in Mississauga, and a favourite with the locals.
J. C. Saddington Park has a looped path system for strolling or jogging, a playground, heritage buildings, picnic areas, an amphitheatre, and a pier with incredible views of the Port Credit harbour. Take part in some wildlife viewing, birdwatching, or just sit back and enjoy the boats cruising by on the lake.
The park is popular, but you won't have a problem finding a quiet shady spot to spend the afternoon. J. C. Saddington park is well-maintained and has plenty of free on-site parking.
4. Brueckner Rhododendron Gardens
Brueckner Rhododendron Gardens is one of Canada's largest public rhododendron gardens. Donated by the late Dr. Joseph Brueckner, you will find gorgeous azaleas and rhododendrons, white pines, perennials, and shrubs.
Inside the 18-acre garden, you will find gorgeous blooms in a variety of vibrant colours. And although the best floral displays are in May and June, you can enjoy the garden all year long.
The gardens are maintained by volunteers, who also offer annual walking tours. But just be aware, that there are no dogs allowed on the property.
Plenty of free on-site parking is available.
5. Richard's Memorial Park
Richard's Memorial Park may be the smallest of the city's lakefront beaches, but it is still considered one of the best parks in Mississauga. The park actually commemorates 14-year-old Richard Wolniewicz, whose heart was donated to Mayor Robert Speck in 1971.
Richard Memorial Park is home to a swimming beach, picnic areas with BBQs, and playgrounds. You will also find a five-foot-tall peace monument, bearing the inscription "Planet Earth is our Home, Humanity is our Family."
Richard's Memorial is much quieter than some of the other parks in Mississauga, making it a great place to visit without having to fight the crowds. There is also free parking and public washrooms available.
6. Jack Darling Memorial Park
Jack Darling Memorial Park is not only one of the best parks in Mississauga but also one of the most popular for families with kids. If you are visiting the city in the summer, this park should definitely be on your list.
The park sits along the waterfront making it quite scenic. It is also home to an off-leash dog park, tennis courts, playgrounds, a splash pad, two massive picnic areas and several walking trails. There is also a pretty great beach that is the perfect spot for swimming, paddling, kayaking, and windsurfing.
As we mentioned, Jack Darling Memorial Park is very family-friendly. The park offers many great amenities including comfort stations, a large number of picnic tables and plenty of parking. The park is also free to enter, which is a definite bonus!
7. Rattray Marsh
If going on a unique hike is on your list of things to do with kids in Mississauga, look no further than Rattray March. Rattray Marsh Conservation Area is definitely one of Mississauga's hidden gems.
Located just west of Port Credit and easily accessible from Jack Darling Park, it is one of the most unique places to go for a hike in the city.
The wetlands at Rattray Marsh Conservation Area are home to the only remaining waterfront marsh between Burlington and Toronto. The walking trails and raised boardwalks allow you to explore the area without impacting the sensitive ecosystems, or, getting your feet muddy.
Visitors can wander the peaceful trails on their own, or take part in one of the park's guided nature tours. The tours are awesome and will teach you more about the bird species, animals, reptiles and amphibians that call the park home.
Keep your eyes peeled for the Wood Warblers, Eastern Kingbirds, and Spotted Sandpipers, as well as for beavers, foxes, deer, and even turtles that live in the Rattray Marsh. At the end of the boardwalk, take the Waterfront Trail to one of the best and least-known swimming spots in Mississauga.
8. Lakeside Park
Located along Mississauga's waterfront, Lakeside Park is the perfect place to go for a scenic stroll along the rocky beach. The trail system is perfect for walking or biking.
During the summer, the kids can enjoy cooling off in the awesome splash pad, or running wild on the playground equipment. There is also plenty of green lawn space to enjoy a picnic, throw a ball around, or just sit back on and enjoy the fresh air.
For our four-legged friends, Lakeside park has a leash-free zone where the doggos can run around and play.
9. Kariya Park
If you are visiting Mississauga in the Spring, make sure to head over to Kariya Park to see the Sakura (cherry) blossoms. In this incredible hidden little garden, you can experience the gorgeous cherry blossoms in full bloom from late April into early May.
This tranquil, Japanese-style park is named after Mississauga's sister city of Kariya, Japan. Enjoy the peaceful atmosphere as you stroll through the gardens, which also feature incredible Magnolia trees.
Although the park is open all year round, peak cherry blossom season lasts only for about a week to 10 days. And you know the park will be pretty crowded, as this is one of the best parks in Mississauga to see the Sakuras.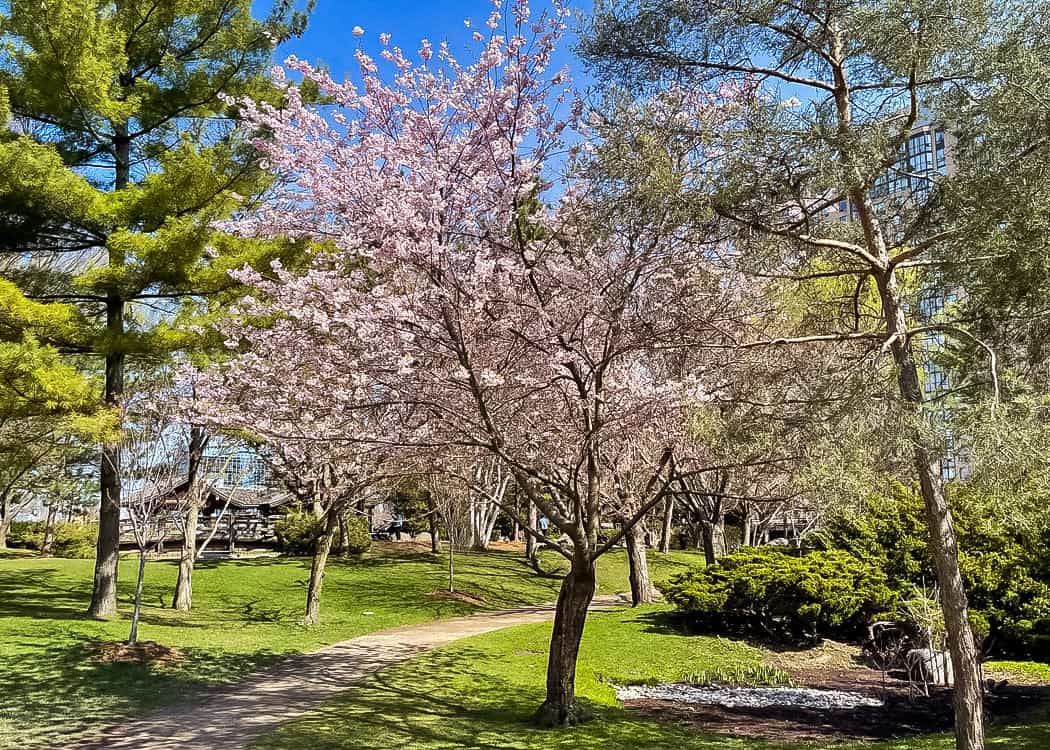 10. Erindale Park
At 222 acres, Erindale is Mississauga's largest park. This incredibly peaceful urban green space sits along the Credit River and is the perfect place to enjoy a family picnic.
Hike the trails for views of the Credit River and ravines, do a little bird watching, fish for salmon or trout in the river, or just stroll through the forest. The kids can enjoy the large playground while you cook up a delicious meal on the grills in the picnic area!
If you are visiting Erindale during the winter, this is the best park in Mississauga to do some tobogganing! The trails are also perfect if you are looking to do a little cross-country skiing.
11. Riverwood Conservancy
Riverwood Conservancy really is one of Mississauga's hidden gems. The entrance to this sprawling 150-acre park is tucked away behind the Erindale GO Station at The Credit Woodlands.
The park runs along the Credit River, spanning between Burnhamthorpe Road and Highway 403. Head out for a hike on the trails, and traverse the habitats of more than 475 species of plants, while walking through the forest and across wetland boardwalks.
There are many hiking trails at Riverwood Conservancy to choose from. Some trails only wind their way within the park itself, while others connect to lengthier paths (the Culham Trail).
Don't forget to explore MacEwan Terrace Garden, where you will find over 7000 plants, including shrubs, trees, perennials, and ornamental grasses. Volunteers do the majority of the gardening, and you can even apply to help out if you're interested.
Classes at Riverwood
But what makes Riverwood Conservancy one of the best parks in Mississauga and truly unique, is the land is part of a charity created to help educate visitors on environmental conservation. Programs like 'Education Naturally' take students into a living laboratory where they can learn hands-on about wildlife, plant life, and geological features.
So if you are looking for one of the really unique things to do with kids in Mississauga, head to Riverwood Conservancy, stroll through the wonderful gardens, and maybe consider signing up for one of their astronomy nights, bird-watching sessions, or one of the painting or sketching classes offered by Visual Arts Mississauga.
12. Meadowvale Conservation Area
Located on 179 acres of lush property, Meadowvale Conservation Area is a great place to spend a warm summer day. With several nature trails for hiking and biking, picnic tables, and even the perfect spot to do a little fishing or even some photography, there is plenty for the family to do.
The conservation area is free to use and quite peaceful, but it can get a little busy during the summer and on weekends. On the plus side, there is plenty of free parking as well as public restrooms available.
13. Paul Coffey Park
Many people don't realize how much of Mississauga's history is tied to aviation. From the original Malton Airport and Victory Village to the production of the cutting-edge Avro Arrow, and of course today, to being home to Canada's largest airport, the city has a deep-rooted connection to Canada's aviation industry.
Located in the former Village of Malton, the Victory Village neighbourhood had its beginnings during World War II. At this time, Canada played a vital role in aircraft production for the war effort.
After the war, Victory Aircraft was dissolved, eventually becoming Avro Canada Limited. It was at A.V. Roe Canada's Malton plant that the Avro Jetliner, the CF-100 "Canuck" and the legendary CF-105 "Avro Arrow" all-weather jet interceptors were developed and produced.
Today, you can find a CF-100 Canuck, mounted on a pedestal in Malton's Paul Coffey Park, just east of the former A.V. Roe property. It serves as a monument to the area's past glory and is the perfect place to take a selfie if you are an aviation fan.
Paul Coffey Park is also a perfect place to bring the kids. The park features a unique children's playground complete with castles and dragons, turrets to climb on, as well as slides and swings to burn off some energy.
14. Sawmill Creek Park
Sawmill Creek Park is home to peaceful nature trails, wildlife spotting and birdwatching opportunities, as well as the chance to see Mississauga's only waterfall.
Bet you did not know that there is actually a hidden waterfall right in Mississauga? I've lived in the city for most of my life and did not discover this fact until just recently!
Wahoosh Falls is located right behind the University of Toronto Mississauga and is accessible by a number of small pathways. The falls sit over Mullet Creek and empty into the Credit River.
And, there is actually a second small waterfall just further down the ravine. Of course, the 10-foot-tall cascade doesn't come close to Hamilton's gorgeous Tew's Falls, but it's still more than you'll find in Toronto!
Unfortunately, when we went to see the falls, the walkway had been closed off with fences and a gate. Apparently, the city of Mississauga is trying to refurbish the area along Mullet creek, so you can only view the falls from the street at this time.
15. Lake Aquitane Park
Located in Meadowvale, Lake Aquitaine Park is an awesome place to visit with the kids, or on your own for a peaceful stroll. Get in a workout, enjoy the views, or let the kids burn off some energy – the choice is yours at this beautiful park in the city.
The park offers a 1.4 km trail that circles Lake Aquitaine and is perfect for hiking, running or biking. Along the partially wooded trail, you will find six workout stations with well-maintained equipment, picnic tables, benches, and wonderful views.
Although there are several access points to the trail and lake, you will find free and ample parking at the Meadowvale Community Center. Just head behind the building to find the trails as well as other park amenities.
During the summer, the kids can enjoy the splash pad located just behind the community centre. There, you will also find a playground, plenty of benches and seating, as well as public washrooms.
If you happen to be visiting during the Fall, Lake Aquitaine is actually a great place to go leaf-peeping or do some photography. The vibrant colours in the park are spectacular, and it won't be as crowded as some of Mississauga's larger parks.
16. Mississauga Valley Park
The Mississauga Valley Park is a beautiful green space located in the heart of the city. Situated right next to a community centre, there are plenty of activities to keep the family busy.
There is a paved path that is perfect for walking or riding, as well as a playground, a pond, and plenty of open space perfect for a game of frisbee or a family picnic. The community centre also has tennis courts, soccer fields and a pretty cool splash pad.
Mississauga Valley Park is pretty popular with the locals, but there is plenty of space to spread out and enjoy time with the family. You will also find plenty of free parking at the community centre, as well as public restrooms.
17. Adamson Estate
The Adamson Estate is a public waterfront park that backs directly onto Lake Ontario and spans over 13.3 acres. Today, the lush gardens and forest are home to the Cawthra-Adamson Division of the Royal Conservatory of Music.
The Adamson Estate was originally made up of 300 acres of land and was the summer property of the Cawthra family. The property is home to a two-storey Colonial Revival manor house, a wooden gatehouse, a barn, a pet cemetery and the remains of a pool.
Today, the Adamson Estate is recognized for its heritage value by the City of Mississauga. The property provides a glimpse into the past of an important pioneer family. It also tells of the lifestyle associated with an early twentieth-century country estate.
18. Danville Park
If you love airplanes, one of the best parks in Mississauga to do a little plane spotting is Danville Park! The Airplane Viewing Platform at Danville Park is the perfect place to watch planes taking off and landing from Pearson International Airport.
Located just off Highway 410, you have to walk up a pretty steep hill to reach the viewing platform. But don't worry, the path is paved and there are benches along the way; just in case you need to catch your breath!
At the viewing platform, you will find an enormous metal paper airplane sculpture, a few benches to sit and enjoy the view, as well as several interpretive plaques documenting Canada's aviation history. The viewing platform can get a little loud with the sound of the highway. But on the plus side, your sightlines to the airport are awesome!
The park is also home to cricket pitches, a tobogganing hill, and plenty of green space. There is also plenty of parking and public restrooms available onsite.
19. Saigon Park
This popular park is located just behind Heartland Town Center and sits on 8.7 acres of land. Saigon Park was created to recognize the Vietnamese-Canadian community who found refuge in Canada in 1975 during the Fall of Saigon.
The park features a stormwater pond, picnic tables, a 1 km pathway that includes a fitness circuit, a pier with benches, as well as an art feature. The massive public artwork features four steel screens rising nine feet high.
Created by local artist Ferruccio Sardella, "A Year in Weather" combines hieroglyphs and weather tracking symbols to represent the area's weather patterns during all four seasons.
And just a heads up, there is no designated parking lot at Saigon Park. There is only free street parking available. J.C. Saddington Park offers picnic facilities, barbecues, a comfort station, fishing, walking trails for joggers and cyclists, children's play facilities and a pond. The park also offers two picnic areas that seat 75 people each. It is also a great fishing spot for carp, salmon, and trout!
20. Zonta Meadows Park
Zonta Meadows is one of the best parks in Mississauga as it is the first all-inclusive, accessible, and barrier-free playground. Designed to provide multi-sensory experiences through the design of its play spaces, Zonta Meadows Park is truly unique and a must-visit park in the city.
With a massive multiplatform playground, a sandpit, a water play area, musical instruments and a stage, this playground offers a ton of great activities to keep your kids busy. The playground also includes a rubberized play surface and several ramps. These features make it easy for wheelchairs to maneuver through various areas.
21. Mississauga Skatepark (Iceland Arena Sports Complex)
Although not a greenspace or traditional playground, we decided to add the skatepark to our list of best parks in Mississauga. It is definitely a popular choice amongst the local kids.
Mississauga Skatepark is part of a much larger sports complex. There are soccer fields, basketball courts, a splash pad, the Iceland Arena, and a ton of other amenities located at the Iceland Complex.
At 2000 square metres, the skatepark is the largest of its kind in the city and is easily accessible off of Highway 401 or 403. The park has a huge street course with a super smooth surface and includes a large kidney bowl, stairs and rails to grind.
If you have kids or teens that love to skateboard, then the Mississauga Skatepark is a great place to spend an afternoon.
Final Thoughts on the Best Parks in Mississauga to Explore
With so many wonderful green spaces and playgrounds to choose from, deciding which are the best parks in Mississauga was no easy decision. But at the end of the day, choosing a park should be based on the needs and preferences of your family. And with over 500 parks in the city, you really should have no problem finding one your family will love.
Pin This Post for Later!
---
---
Related Posts: